Tesla Model Y Long Range 2022
Charge at home, charging cable included
Not sure how car subscriptions work?
Car description
| ​​Money Back Guarantee - If you need to cancel your booking, you'll get your deposit back, no questions asked! | Vehicle & Plan Change Protection - Your pricing will be locked in to the lowest rate, and you'll always be eligible for the newest incoming vehicles as they arrive | Condition & Availability Promise - Your vehicle will come in near showroom condition. If the vehicle you want isn't available, we'll lock in your pricing and provide a courtesy upgrade until it arrives | Free In Store Pickup - As early as 1 business day, or paid valet delivery up to 50km, starting at $50 | KM Upgrade Eligible - Increase your monthly mileage to 3000km | Additional Driver Eligible - Add another driver to your subscription for $75/month | Exclusive Priority Upgrades - Get first access to returning and newly arriving vehicles to the Roam fleet
Car features
512KM Estimated Range per charge

0-100 KM/H in 5.0 seconds

Dual Motor, All-Wheel Drive

Basic Autopilot - Enables your car to steer, accelerate and brake automatically for other vehicles and pedestrians within its lane.

Easy Charging - Charge anywhere there is electricity. Most range used for daily driving can be topped off using the included Mobile Connector Bundle.

Over-the-Air Updates - Model Y gets better over time with frequent wireless software updates, bringing you new features, more entertainment, higher performance and range, increased comfort and even better safety.

Sentry Mode - A unique layer of protection for Tesla vehicles continuously monitors the environment around the car when it's left unattended

Model Y features 2158 liters of cargo space accessible through both the front trunk and the automatically opening and closing rear trunk

Tesla Mobile App - Remotely control and monitor your Tesla with Phone Key keyless driving, range & charging status, climate control, live GPS location and more.
Tesla Model Y Long Range 2022
Charge at home, charging cable included
Not sure how car subscriptions work?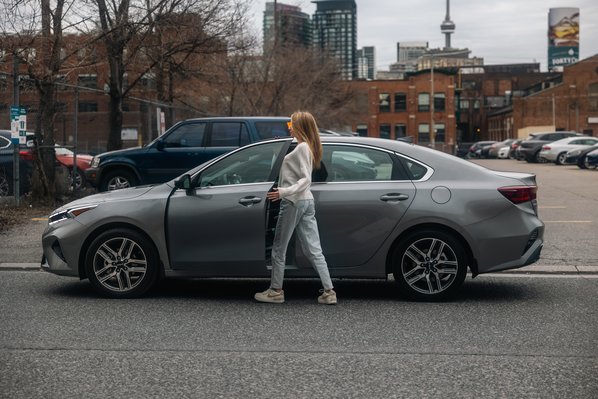 Free pick up and drop off
Free vehicle pick up and drop off from Roam's Kipling location.
863 Kipling Ave, Etobicoke, ON M8Z 5H1
Optional valet home delivery
For a fee, Roam will deliver your car to you. Valet fees can range from $50 to $150, based on your location. Roam's valet service area extends up to 50 kms from Roam's Kipling location.
Everything included except for fuel
Your subscription comes with insurance, routine maintenance, and roadside assistance so you have everything you need to drive.
Drive as long as you like
Extend your subscription or upgrade your plan at any time.
Add drivers or more mileage on the fly
Add more drivers or more mileage to your plan at any time.
Refer friends and save money on your monthly car subscription payments
Share Roam and earn a $250 referral bonus credit for you and a $250 referral bonus credit for a friend.
Learn more