Insurance Registration Process & Background Check
Once you submit your subscription request, our team will immediately begin processing your insurance registration which will enable you to drive on Roam's comprehensive insurance policy!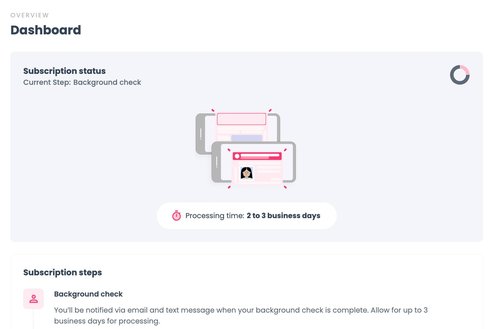 Your safety is our priority, here are the next steps to tackle your flat tire:
Call roadside assistance to get immediate service and continue driving! The number specific to your vehicle brand can be found at the end of this page or by clicking here!
**The original tire will need to be inspected and kept during this process**


Fill out the roam incident report form and ensure to take detailed photos of the tire and vehicle.
Sit back and relax
Your subscription submission will be processed by our team immediately upon submission.
Your 5 minute submission will save you hours!
With your one submission, we take care of the administration to get you eligible to drive your vehicle of choice, as well as over 180+ other models in our fleet! Compared to the traditional insurance or rental car process, you save time upfront with our best pre-negotiated rate, right from the start.
Your background check & driver's abstract
The reason why we're able to keep our insurance so low, is because our Roam drivers have fantastic driving records and history! Our insurance partner will verify your previous driving history and experience.
Frequently Asked Insurance Registration Questions
Why does it take 2-3 business days to process my subscription?
Your registration can take up to 3 business days because we work with an insurance partner who helps facilitate the insurance policy. We can do our best to expedite requests, if a special circumstance is required.
I don't have insurance history in Canada, am I eligible?
All is good! If more information is needed to process your insurance registration, a team member will reach out to ask for additional documents. In most cases, you will need to provide a 'letter of experience', or previous driving history from your home country for our team to process.
My Registration was not approved, now what?
Unfortunately at this time, we would not be able to support an out-of-province, or out of Country License! If our insurance partner deems your profile in-eligible for a lack of driving history, or because of past accidents, your subscription cannot be processed. We have plans to work with an insurance partner in the near future to provide our users more control over the insurance sign up process! Please create an account with us and you will be notified when the feature goes live!