If you have a customer awaiting a factory order, or service parts, and need a solution for 1+ months, Roam is here to help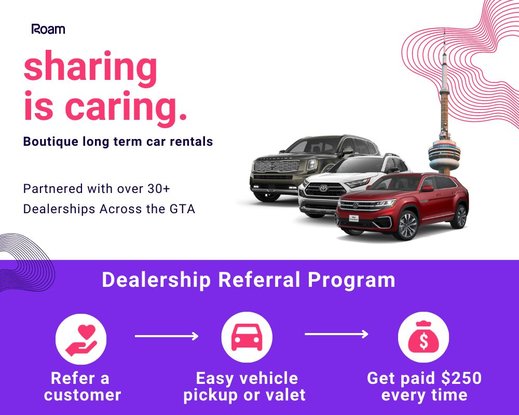 Roam is a boutique long term rental option for your customers. We specialize in working with dealerships and sales consultants who need short term vehicle solutions for their clients between factory order, or parts & service waitlists.
Whats In It For You
Give your factory order clients a solution if they need a car TODAY, 48 hour turnaround.
$250 referral fee paid to you for every client who subscribes
Painless onboarding and off-boarding, easy returns when their vehicle is ready.
White glove service for your clients
Why Recommend Roam To Your Clients
Newer & Better vehicles, with better service than rentals
We beat the price of the competitors i.e. Enterprise
Insurance, Roadside support, & Maintenance included.
48 hour turnaround from signup to on-road.


How to Get Started
Email or call your dedicated Roam Account Manager, or share the contact details below.
Nicholas Hastings
(647) 956-4649
Your client will create an account with Roam, and be processed by our insurance provider (can take up to 48 hours).
They arrange valet delivery by our team, or pickup to our office in Etobicoke.
You'll be paid $250 on every referral by cheque or direct deposit on every activation
Minimum Driver Requirements
The minimum driver requirements to ensure insurance eligibility are:
You must have a valid G driver license in Ontario.
You must be at least 23 years of age.
No major criminal convictions or moving violations.
No more than 1 at-fault accident in the past 3 years.